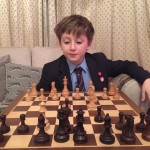 Chess player Christopher Tombolis's school year has been given a challenge by their head of year to make money for Retinitis Pigmentosa Fighting Blindness. The boys have until 23rd February to increase the £3 they were given.
The website of the charity is http://www.rpfightingblindness.org.uk/newsevent.php?newseventid=481
Christopher thought that it would be a good idea to use chess to make money for the charity, so on Sunday 7th February between 2pm and 5pm he will play as many blitz games as possible in the 3 hours he has been allocated at Waterstones Bookshop on Chiswick High Street – https://www.waterstones.com/events/are-you-smarter-than-a-10-year-old-at-chess/london-chiswick
Christopher is using his money for printing certificates for everyone who plays a chess game on Sunday as well as producing flyers to publicise the event in our local area. He will be there for 3 hours, and people can make any donations to the chosen charity, as well as £1 per game with Christopher. If there is enough demand he will try to play more than 1 game at a time.
Christopher has also set up a Just Giving page for people who want to support him and the charity but cannot be there on the day – https://www.justgiving.com/christophertombolis